Love glass? Visiting Denver? See Chihuly exhibit
If you love glass and you are visiting Denver prior to November 30, 2014, you'll want to visit the Denver Botanic Gardens to see the Dale Chihuly installations!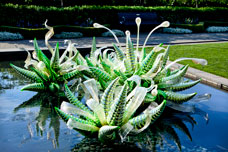 From the Botanic Gardens website, we learn that
" Chihuly is credited with revolutionizing the Studio Glass movement and elevating the perception

of the glass medium from the realm of craft to fine art.
He is renowned for ambitious architectural installations around the world, in historic cities,  museums and gardens."
The green glasswork shown in the top right photo is featured in the Monet pool at the Gardens, in itself a lovely and tranquil place filled with several varieties of lily pads. The piece is this blogger's favorite of all the amazing installations on display. Another striking sculpture is "summer sun". Viewed while touring the crowded gardens on a hot day this past August, its fiery tendrils seemed to intensify the heat.
Want to see some cool pictures and  a video on scientific glassblowing? Click here to see a  feature produced by the American Ceramic Society. A couple of the photos you'll see are perfect for Halloween!
And where did the art of glassblowing begin?…  The American Scientific Glassblowers Society (ASGS)  has an interesting article on the history of glassblowing written by an interesting man. From the editor, we learn that
"Joe Wheeler is a Scientific Glassblower and a member of the ASGS. At 90 years old, he is very possibly the oldest working scientific glassblower alive today. Almost every day he goes into his glass shop and creates projects of either scientific or artistic handblown glass. He started his career with glass in 1942 as a precision lens engraver for Bausch and Lomb Optical Company in Rochester, NY. Then after 3 1/2 years in the U. S. Navy, in 1946 he apprenticed for 4 years to Hans Blaessig a German trained glassblower. Hans was a hard taskmaster, but the glassworking techniques he learned stayed with him over the years. Additionally, he worked with scientists to design and create glassware at the University of Arkansas, Purdue University, Dow Chemical Company, the University of Wisconsin – Madison, the University of Hawaii, Litton Electron Devices, and Hughes Aircraft, Electron Tube Division." 
Follow this link to the article on the history of glassblowing.